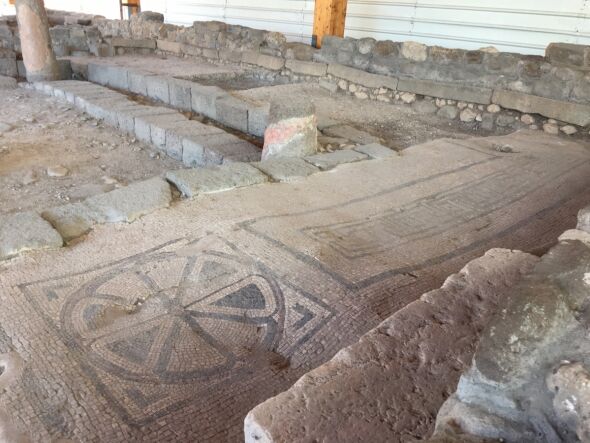 Once again, Eric Mitchell assists us modern readers in understanding what it would be like in ancient Israel.  In this case, much closer than David and Goliath!
Moving a thousand years through the clouds of dust of time, he finds himself on the shores of the Sea of Galilee (Gennesarret) and the town of Magdala , hometown of his friend and follower Mary .
In well preserved ruins, archeologists have revealed details including a stone "tabletop" like that which Jesus would have used to spread out the scroll of Isaiah in his hometown of Nazareth[1].  Only five miles from Jesus' base of operations in Capernaum, it is very likely that the synagogue uncovered in the 21st century once served as a venue for the Master's Sabbath teaching.
Jesus was an honored guest in many Galilean synagogues in the first two years of his earthly ministry.  It is possible that he may have cast out the demons that had tormented Mary[2] on the very ground Dr. Mitchell visited. Jesus was known to have cast out demons in his visits to synagogues[3].
The Lord still works wonders in His followers today, but in this physical connection with the past, it is comforting to know His "job" was finished in the battle against the forces of Satan[4] not too far from these stones when they were in everyday use by those who knew Jesus personally.
This work is under copyright of the author and should not be used without his permission.